Available for 1/2 lease
Nickel
16yo welsh cross 12.2h pony




Nickel is available for a 1/2 lease. Great pony to teach you the ropes of the horse show world. Walk trot to 2'6"
Can take a lot of leg, and looking for his next little girl to love him. $625 per month


Pebbles is a great large pony, who really loves her kids. Great short sturrip pony, but has the jump to do more.
Pebbles is looking for her next kid to bring to the horse show 1/2 lease $625

Disco Prince LEASED!
17h 12 yo TB gelding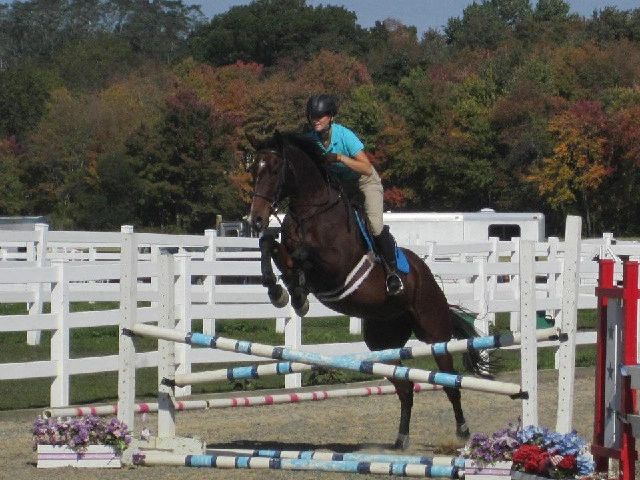 Disco is a 17h, 12yr old TB. He is tattooed but never raced. He is completely in your pocket personality, exceptionally sweet and polite. Three wonderful gaits, incredible impulsion and rhythmatic canter that never changes! Auto-changes on the flat and over fences. Incredibly soft mouth, can walk, trot, canter on the buckle but accepts contact willingly. Quiet enough for the hunters but athletic enough for the dressage ring and jumper ring. Travels excellent, loads, clips, stands for farrier and vet. All-around great guy! Has lots of show experience.
For LEASE
Bridget
14yo, 16.3h, Warmblood mare
Bridget is an extremely athletic horse with no mare-ish personality. She is definitly the sweetest horse in the barn.
Quiet and simple on the flat, but bold to fences.No spook and jumps anything.
Has done lots of jumper competitions from the 1.0m to 1.20m including mini-prix's.
However Bridget is also completely happy staying at home flatting and jumping small fences to just have fun.
She has the best extended trot I've ever seen and has the suspension to go with it.
She would be best suited for an intermediate to experienced rider because of her power, but is quiet and safe enough on the flat for a beginner.
She loves to work and her new owner doesn't have time to ride everyday
She is available for a 1/2 lease.

For more information or to try Bridget email Carleen midnightmoonstables@hotmail.com
978 888 5671
Starlett 15yo TB mare
Starlett is a smooth, sophisticated, 2'6" to 3' Hunter Mare
She is available for 1/2 lease, Contact midnightmoonstables@hotmail.com for more info
Taboo
picture coming soon
Taboo is a wonderful TB gelding. He is trained thru 2nd level dressage, and can go both in the hunter and jumper rings. Taboo is looking for a 1/3 on farm lease.
contact midnightmoonstables@hotmail.com for more info